Cavity Components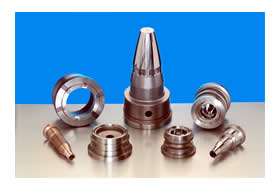 Critical to the functioning of molds are the cavity components. Hommer Tool's round tooling expertise is vividly seen in the manufacturing of custom cavities. By maintaining concentricity throughout each component along with meeting or surpassing all tolerance requirements, we assure our customers our cavity components will work smoothly with their molds for high volume molding. Contact us with your cavity requirements - we look forward to working with you.
Mold ready available
Interchangeability
Complete understanding of surface finishes, fits and shut-offs
Please fax your RFQ to 847-394-1257 or email to sales@hommer.com.