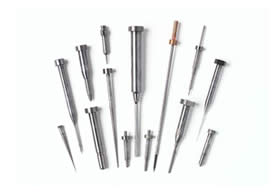 A composite material developed for the aerospace industry, SMI-98 is the ideal mold core material for today's demanding injection molding operations. Stronger than steel and more wear-resistant than copper alloys, it can reduce molding time by up to 40% while improving product quality over a long core working life.
As a space-age composite material,
SMI-98 offers:
Reduced core deflection
Five times the thermal conductivity and diffusivity of steel
Greater wear resistance and less deflection than copper alloy cores
70% greater strength than H13 tool steel
120% greater strength than stainless steel
Hardness that exceeds 72Rc
Corrosion resistance superior to 420 stainless steel
Please fax your RFQ to 847-394-1257 or email to sales@hommer.com.