There are part candidates that seem to defy the application of process technology - in this case, grinding technology. Too big, too long, too much stock, terrible material, nonround, eccentric…"Who needs jobs like this?" Answer: It's not the job that's too tough; it's not having the right grinding technology.
Arlington Heights, IL - Hommer Tool & Manufacturing, Inc., opened in 1983 to specialize in the production of round tooling and components, as well as the fabrication of replacement tooling, for the plastics injection mold building industry.
In the 20 years since, Hommer Tool has earned impressive customers including Nypro, Inc., Courtesy Mold, Tech Mold, and Baxter Laboratories. With annual revenues in excess of $5 million, a new state-of-the-art 12,000 sq ft facility and 35-plus employees, the company continues to grow and to scan the horizon for new opportunities. JR Hommer, vice president, admits that he's constantly looking for ways to make the company "stand out." One way he's achieving noted singularity is by being able to do what others cannot do - or at least cannot do as competitively.
STRATEGIC SELF-SUFFICIENCY
From the start, Hommer has been set up to be self-reliant. Its technology stable reflects that: CNC turning and milling centers and ID/OD grinders; manual, surface, and centerless grinders; automated hones; wire EDM; gear hobbers; gundrills; CMMs, comparators; and a computerized shop floor control/process management system.
The idea here, according to Hommer, has been to establish, in-house, the capability to control process, quality and delivery. And this involves at least three issues: One, outsourcing only those processes that would be too cumbersome to source inward- heat treating and nitriding, for example; Two, maintaining a highly skilled workforce; and Three, investing in only the best machine tool technology.
A fourth issue involves the element of "stretch," or seeking out jobs that challenge the technical and technological boundaries of the company and thus take it to new areas of opportunity.
"These are all elements of our competitive and long-term growth strategies," Hommer says. "While we continue to better serve those in the industry in which we've grown, we're at the same time developing a reputation as a company that tackles jobs others feel are impractical, financially unprofitable or perhaps just impossible."
IMPOSSIBLE: ONE WAY TO DESCRIBE IT
Rick Skaja, operations manager, thinks for a moment before describing a recent application for Honda Motors of America's Marysville (OH) engine plant.
"I've been a toolmaker for 25 years," Skaja says, "and in all that time, I don't think I've seen anything like this.
At first I thought: No way. Not with the tolerances, the number of operations, the shapes, the wheel changes, the eccentricity. And I still think there's no way to make this part other than on the Studer. Just no way. Period."
The Studer is a S4OCNC from United Grinding Technologies (UGT; Miamisburg, OH). The S4OCNC was purchased initially because of its flexibility and ease of use. Hommer: "The rationale was this. If I was going to make a considerable capital investment in new grinding technology, I wanted a machine that could do the entire job, that could be changed over quickly and easily programmed by our operators."
Because the company runs multiple jobs during each shift, ease of programming was deemed an absolute necessity. With the Studer Pictogramming software, Hommer operators found they were easily able to meet flexibility challenges. Once one job is completed, they perform a pictograph-based setup and have the machine producing new parts in usually less than an hour.
Further, the Studer wheelhead configuration also appealed to Hommer. The S4OCNC has two OD wheels and a high frequency ID spindle on an infinite B axis. With this configuration, a job that would have previously taken five separate operations could now be completed with one setup. This level of efficiency has more than doubled productivity on many jobs.
Attributes such as these would prove critical in the Honda job. Skaja: "The finished part ends up in a die caster, which is about all I can say of its end-use application. But the part's grinding complexity really demanded that we put the Studer through its paces."
The part is 26" long. The material is a mild steel, about 45 Rockwell, somewhat harder than H13 and, as Skaja says, pretty "gummy and prone to springing."
"I wanted a machine that could do the entire job, that could be changed over quickly and easily programmed by our operators."
The part is first turned, the flanged body is roughed on a mill, and a 0.315" diameter hole is gun-drilled nearly the entire length of the part. There are some 12 grinding operations requiring five different wheel shapes- four nonround, peripheral shapes and one round, tapered shape. Grinding requires four setups and two double-wheel changes. Overall dimensional tolerances: 0.0002". Actual grinding time (excluding setup and wheel changes): just over six hours per part.
"We clamp it in the Studer with a custom two-jaw chuck, hold it on the milled surface and hit the back face of the large diameter," Skaja says. "Then, centering off the milled flanged center surface, we reproduce the flats on the head. After this, we turn the part around and grind the area of the oblong closest to the end of the hole, so we can check wall thickness and concentricity. Then, we put in an off-set center at the long tapered end of the part and in a literal sense begin working backward.
We figure out where the hole 'walks,' put in the off-set center, and start grinding again on the backside, this time between off-set centers. What we're now doing at this point is grinding an eccentric, nonround shape between off-set centers."
There are a number of precise radii (at least four over the length of the part) that require wheel reconfiguration or change. The radii range from 0.5 mm under the head of the part, to 8.5 mm at the junction between the oblong nonconcentric oval and the final tapered length, and a 3.0 mm radius at the end of the part.
About 60 mm down from the head of the part is the start of the oblong taper- which, according to Skaja, is basically a nonround oval shape except that it's tapered in two ways, across the flats and across the radii. "Even though we're grinding an eccentric," he says, "the part here is actually round due to the relationship of the centerline location at this point with respect to the part plane."
If much of this appears pretty complex, that's because, according to Skaja, it is. "You should actually see this part run," he says. "The orchestration of head and slide movement...it's wild. And when we're done, we've ground off more than 3-3/4 pounds of steel. Which is a lot of stock removal. More impressive, however, is that it's highly precise stock removal on a job many of us thought impossible."
PROGRAMMING THE IMPOSSIBLE
While programming the Studer S4OCNC is routinely pretty easy, even on complex jobs, the Honda die casting part proved something else.
"We'd put a lot into this job," Skaja says. "In fact, the first two sets of parts we produced cost more than $67,000- an enormous investment. Yet, we knew that part could be made cost-effectively. The key had to be in the programming."
UGT, which had been asked to assist in resolving the issue, came up with a software upgrade that cracked the problem wide open. The upgrade, which UGT supplied at no charge, is called nonround eccentric traverse- which, according to Skaja, suddenly made "it all work."
"Nonround eccentric traverse. What this means," Skaja says, "is that we can traverse across ovals and tapers while grinding nonround, eccentric shapes and running between off-set centers. This software solution made the job possible. And the S4OCNC makes producing it practical."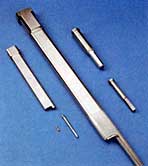 The "impossible" part (center). This makes for tough grinding - 26"
of complex shapes, surfaces, radii. Plus, a "gummy" material.
And this means? Hommer can now supply the part for about $2,000 per piece, which is roughly 30 percent the cost of its closest competitor. "The combination of UGT and Studer has not only provided us with a real competitive advantage," Hommer says. "Very often now, while we're moving ahead,
we look at our competition and find them somewhere behind us, trying to find a way to catch up."
For more information contact Susan Menn (Marketing Manager) at Hommer Tool & Manufacturing, Inc. (Arlington Heights) at 847-394-3355.