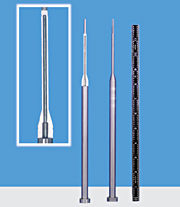 Long-time custom core pin and mould insert manufacturer Hommer Tool & Mfg. (HTM) has always pushed its manufacturing processes to the limit. One example is the deep, small-diameter bubblers in thin wall cores. One customer needed core pins for a 3/32 diameter hole nearly 9 in. deep in M-2 steel. The wall thickness finished at .030. Having already developed the ability to drill bubbler holes to depths far greater, the challenge was in keeping the hole centred in order to prevent weak wall sections, and maintain consistent cooling.
HTM calculated that it needed to find a way to measure the wall thickness of a bubbler core pin, so the company investigated different options before selecting a sonar device that would measure to one thousandths of an inch. The ability to measure the wall thickness allowed HTM to experiment with optional machining procedures to finish the outside of the core while keeping it concentric to the inside hole. These efforts have resulted in HTM developing a special machining process that is incorporated in all of its core pin orders with blind holes.
Part size uniformity and cycle times play an important role in high volume moulding. HTM's ability to produce pins as designed enables moulds to cycle at their maximum. Just by reducing a 10-second cycle to a 9-second cycle, a moulder picks up over 350,000 cycles per year. A 48-cavity mould could produce 16.8 million more parts.
For more information contact Susan Menn (Marketing Manager) at Hommer Tool & Manufacturing, Inc. (Arlington Heights) at 847-394-3355.