Evolution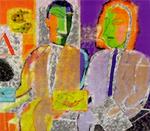 Years ago, toolmaker did it all. They were taught how to run every piece of equipment necessary to build a tool. Some shops even did their own heat treating. Toolmakers saw the job through from start to finish. By the time the mold was finished, they had most of the dimensions memorized in their minds. A toolmaker knew the tool inside and out, but never knew the customer.
When the equipment became more technical-particularly EDM-operators were assigned specifically to each machine-pantograph operators, boring mill operators and EDM operators. Then the age of computers arrived with high-tech equipment controlled by computers-CNC everything. Maximum efficiency could only be obtained by assigning one person to run that machine, and perhaps a second and third machine at the same time.
Specialization
With the high cost of buying a CNC machine and training an operator, not every shop could afford to buy one of each machine. Owners often purchased only the machines they needed on a daily basis and looked elsewhere for occasional support. Consequently, more and more small shops opened, which supplied very specialized services to the tool building industries-EDM, wire EDM, CNC turning, CNC milling, CNC I.D. and O.D. grinding, EDM hole drilling and deep-hole drilling, just to name a few.
As machining operations became specialized, so did the areas of expertise for tool building companies. They were no longer just machine shops, but rather precision tool manufacturers specializing in a given market or type of tooling such as manufacturing round inserts for injection molds.
Customer Communication
Change is continuous-new equipment, team leaders, employee empowerment and customer communication. Quality and on-time delivery is now expected - without them you cannot succeed.
Today, the area which requires the greatest amount of time and energy, is customer communication. Component manufacturers should have their estimators and processors review every quote and order. They then should route the job through the plant-one operation at a time. In doing so, engineering errors can be caught and corrected, such as incorrect dimensions on prints.
When a mistake is found, the component manufacturer should inform the customer, so corrections can be made before the prints are released for production. Difficult shapes, surface finishes and unnecessary requirements should be noted and discussed. Before quoting the job, estimators should call the customer and discuss exactly what is needed and the critical areas. Changes can then be considered to improve the part or lower the cost of producing it. Print changes should then be noted and filed for future reference. It is important that this procedure be followed for every quote, even though every quote will not necessarily become an order.
"The area which requires the greatest amount of time and energy today is customer communication."
Larger accounts may submit a dozen or more quotes in a week and then lose track of them. Sometimes a customer calls several weeks after the quote is submitted and states that they need the parts immediately. In order to assist the customer quickly and efficiently, fax them a weekly activity report, which includes what was quoted, what was ordered and what was not ordered. This may be a great help in preventing emergencies.
Procedural Safeguards-Updates
Once a quote becomes an order, all the information should be attached to a work order, which follows the job through the plant. As technicians perform their specific tasks, more questions may arise.
This is especially true when a component manufacturer is producing multiple inserts that shut off with each other in the mold. At this point, the person responsible for the given operation should call the customer and discuss with him/her firsthand exactly what it is that he/she wants and needs. Since the customer is paying to have his/her tooling made, the component manufacturer must make it exactly the way the customer wants its.
When a project is accepted with critical delivery date requirements, the manufacturer should communicate with his/her customer through a weekly update report, which shows the customer exactly how far along their order is and when they can expect delivery.
"In order to assist the customer quickly and efficiently, fax them a weekly activity report, which includes what was quoted, what was ordered and what was not ordered."
When asked to produce a complete set of inserts for a tool, the manufacturer should send an estimator to meet with the customer's engineers to discuss the best approach for supplying the customer with exactly what he/she wants and needs-this is especially effective when the customer needs to add more detail to the inserts being produced.
In order to meet critical delivery dates, which include machining schedules at different companies and the delivery of the completed tool on time, the component manufacturer should coordinate its schedule with the customer's.
Delivery schedules should be made months in advance and the production schedules should be run to meet these deliveries. As the deadlines draw near, communication becomes even more critical-daily, sometimes hourly updates should be supplied to the customer. Once the product is shipped, it's old news and preparation should begin for the next order.
Customers will dictate any changes in store for the future and component manufacturers must remain open-minded, technically up-to-date and ready to communicate.
For more information contact Susan Menn (Marketing Manager) at Hommer Tool & Manufacturing, Inc. (Arlington Heights) at 847-394-3355.