CHICAGO - Quick-cooling mold cores of a high-performance, metallic composite are making inroads into a market that traditionally uses steel or copper base alloys.
At NPE 2003, Noren Products inc. (Booth S844) of Menlo Park, Calif., and Hommer Tool and Manufacturing Inc. (Booth E9453) of Arlington Heights, Ill., will exhibit the technology from Smart Mould International Ltd. LLC of Traverse City, Mich.
John Check bagan working on the core concept for preforms more than a dozen years ago. He holds four domestic and Canadian patents on the technology and has applied for another patent.
"I want to help bring mold-making technology back to the U.S.," Check said in a telephone interview. He is SMI's founder, president and chief executive officer.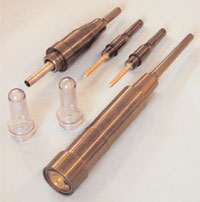 SMI's Thermal-Kool core technology
Check uses his aircraft-engine-quality material, known as SMI-98, to make customized cores used to injection mold or blow mold caps, closures and medical components in addition to preforms.
Up to 80 percent of processing heat needs to come out of cores rather than cavities, Check said, but, prior to his invention of SMI-98, materials were inadequate for the job.
His firm handles sales, marketing, custom engineering and forming of blanks within 15 thousandths of an inch of a finished size. SMI began using Thermoanalytics Inc.'s Wintherm 6.0 software in October.
The process involves forming and baking a proprietary compound in a sinter hip furnace and proceeding through profile diamond grinding, polishing and application of a vapor-infused tungsten-carbide-carbon coating.
SMI subcontracts the precision grinding to equipment-component-maker Hi-Tek Manufacturing Inc. of Mason, Ohio, and medical-core-specialist Hommer. The firms have invested a total of about $900,000 for specialized grinding systems.
Once operating in a new or retrofitted mold, a finished core can achieve dramatic comparisons vs. a steel core. Check said an SMI-98 core removes heat about five times faster, reduces deflection and part warpage by three to four times, cuts cycle time 20-40 percent and lasts longer.
An SMI-98 core has a thermal conductivity of 130 watts per meter-kelvin vs. 28.2 W/mK for H-13 steel, 24.9 W/mK for 420 stainless steel and 125 W/mK for a copper base alloy.
In elasticity, SMI-98 logs 89 million pounds per square inch on Young's modulus vs. 29 ksi for either steel and 22 ksi for copper.
Throughout a core's total thickness, SMI-98 records 71 on the Rockwell hardness C scale vs. 50-52 for H-13 steel, 50 for 420 stainless and 31 for copper.
Cost is higher. "Normally, a [SMI-98] core is two to three times more expensive than a steel core," Check said, but higher product quality and faster cycles offset the price.
Two products are made with SMI-98. A Quick Cool core uses a standard water bubbler cooling system, and a Thermal-Kool core internally incorporates Noren's heat-pipe technology. Noren's NPE exhibit will include an SMI-98 hands-on heat transfer demonstration.
SMI-98 forms the outer shell of a Thermal-Kool core. Noren, a machine component supplier, fills the core with a gas mixture and applies a seal at the factory. The nearly isothermal conductors transfer heat fast and evenly and help in avoiding plugged holes, especially in molding smaller diameter parts. A Thermal-Kool core acts like a highly efficient thermal pin.
Check shared customer examples. A processor using a 48-cavity mold reduced a medical part's cycle time to 10 seconds with a Thermal-Kool core from 14 seconds with a steel core. Another using a 32-cavity mold reduced a medical part's cycle time to nine seconds with a Thermal-Kool core from 13.5 seconds with a steel core.
SMI has produced about 600 Quick Cool cores and, since its early 2001 introduction, about 250 Thermal-Kool cores.
For about 20 years, Check built tools and electrical discharge machines at a large Ann Arbor, Mich., shop that he owned and sold in 1982. He retired, relocated to Traverse City and enjoyed the life of a golfer and angler.
But his technical expertise was sought. Johnson Controls Inc.'s plastic container division approached Check in 1990 to help shorten cycles for blow molding PET bottle preforms, and he consulted in depth on the core concept. In 1997, Schmalbach-Lubeca AG acquired the division but chose to not pursue the project.
Check independently continued the development and, at 73, actively pushes the technology.
"For many years, the molding machine was the throttle for cycle reduction," but technology improvements have removed that impediment, Check said. Now, "the mold in the throttle."
For more information contact Susan Menn (Marketing Manager) at Hommer Tool & Manufacturing, Inc. (Arlington Heights) at 847-394-3355.